The State Historical Society of North Dakota (SHSND) is the state's history agency. Formed in 1967, the State Historical Society of North Dakota Foundation was formed as a private, non-profit organization in an effort to support SHSND's projects and programs that cannot be funded by the legislature. Foundation Director Marlo Sveen mentions, "Our goal is to support the mission of the Society, which is 'to identify, preserve, interpret and promote the heritage of North Dakota and its people.' We do this by lobbying, networking, and raising private funds for the needs of the Society."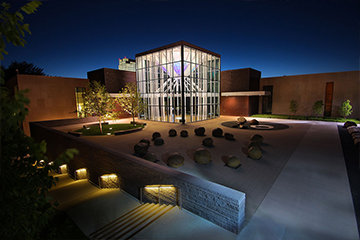 Sometimes a misconception of the SHSND is that their only resource is the North Dakota Heritage Center, but Sveen is quick to say that they have so much more than just the Heritage Center. They have 57 sites throughout the state including museums, a research library, historic sites, archeological digs, and more making history fun and enjoyable.
Maintained by membership and donations, Dakota Community Bank & Trust (DCB&T) is just one of the foundation's 1,400 members who support them with various monetary gifts. In addition to an annual Foundation contribution, DCB&T was one local community business that chose to give back to the community and the state by donating to the expansion of the North Dakota State Heritage Center. "It was through gifts like yours (DCB&T) that we were able to add on to this great resource. Dakota Community Bank and Trust has been very generous to us and has supported many other community projects and events to help make Bismarck/Mandan and all of North Dakota a better place for families and businesses," recalls Sveen.
The expansion of the North Dakota Heritage Center was a combined effort of both state and private funding with 80% coming from the state over three legislative sessions. With the remaining private financial support from DCB&T and others in the community, the Heritage Center more than doubled in size, adding 98,000 square feet. "This gave us three new galleries and we were able to remodel the existing large gallery and bring it up to the same standards as the new galleries. Dakota Community Bank and Trust was one of the businesses that helped make this happen. We are so grateful for everyone who came forward to help get this done."
Sveen, who has been with the foundation for 14 years, states that the grand opening event of the newly renovated Heritage Center in 2014 had nearly 5,000 visitors. This rebirth of interest in our state's history has held strong ever since, reaching over 1 million visitors and averaging over 200,000 a year since the expansion. He reveals, "Many of our donors have used our meeting rooms and the auditorium for their family events or office meetings. There have been numerous receptions held in our event spaces. It has also become a place for companies to bring new potential employees and their families to showcase what North Dakota has to offer."
The Foundation survives because of state-wide support and local volunteers. They are grateful for their over 200 volunteers who provide valuable services on a daily and weekly basis. The Heritage Center, the Society, and the Foundation continue to build. They are continuing to cultivate, collect, enhance and make the Heritage Center and ultimately the state of North Dakota an even better place.
Written by Lindsey Hefta, Marketing Director